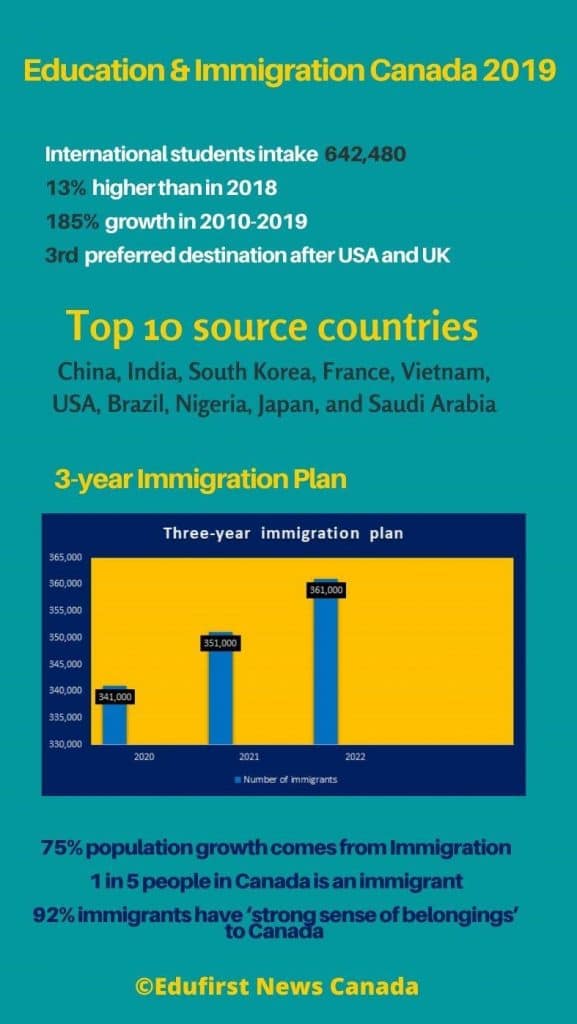 Canada witnessed a 185% growth in its international student population nearly the last decade since 2010 to become the third best destination for international students after the USA and the UK.
In 2019, Canada welcomed some 642,480 students, which is13% higher than the previous year. Canada's approach to the internationalization of higher educated is credited to this continued growth.
Moreover, international students brighten their opportunity to become a permanent resident after they complete their education and get the post-graduate work permit (PGWP).
Canada also believes that international students become better citizens as they have more prolonged exposure to society and the environment before becoming a permanent resident.
International education is, in many ways, embedded in immigration! In 2019, Canada welcomed 341,190 permanent residents, while around six million visitors visa and electronic travel documents are issued every year.
Canada plans to accept over a million new immigrants in 2020-22. The projections for permanent resident intake for 2020, 2021, and 2022 are 341,00, 351,000and 361,000, respectively.
Immigration is a highly regulated sector in Canada. Under Canadian law, only licensed immigration consultants or lawyers can advise and guide prospective applicants on their 'possibility' to migrate to Canada.
At EduFirst, we work with several licensed immigration consultants to help our clients.
Contact us at info@edufirst.ca for further information. One of the immigration consultants would be able to help you.