Are you an international student concerned about coming to Canada during this unprecedented global pandemic?
Travel restrictions have impacted many international students as those regulations stop most discretionary travel to Canada.
However, Canadian authorities have put some new measures to allow international students to come to Canada. This article will explicitly provide you a proper guideline to prepare yourself to arrive in Canada.
While in quarantine, students should avoid public and shared spaces. They also need to arrange to have access to necessities like food and medicine. Places with shared living accommodations, such as hostels, are not acceptable for quarantine or isolation.
The penalties for breaking quarantine can include a fine of up to $750,000 and six months in jail.
COVID-19 test result: All the international students arriving in Canada by air must show negative COVID-19 test results obtained no more than 72 hours before boarding their flight. See more on the pre-arrival guide.
Mandatory hotel stay: All air passengers arriving in Canada will be required to take a COVID-19 PCR test upon arrival, effective from February 22, 2021. Students have to quarantine in a government-selected hotel for up to three days at their own expense.
Please note that travelers must reserve their hotel stay at a government-approved hotel before boarding their flight. This cost may be more than CAD$2,000), according to IRCC.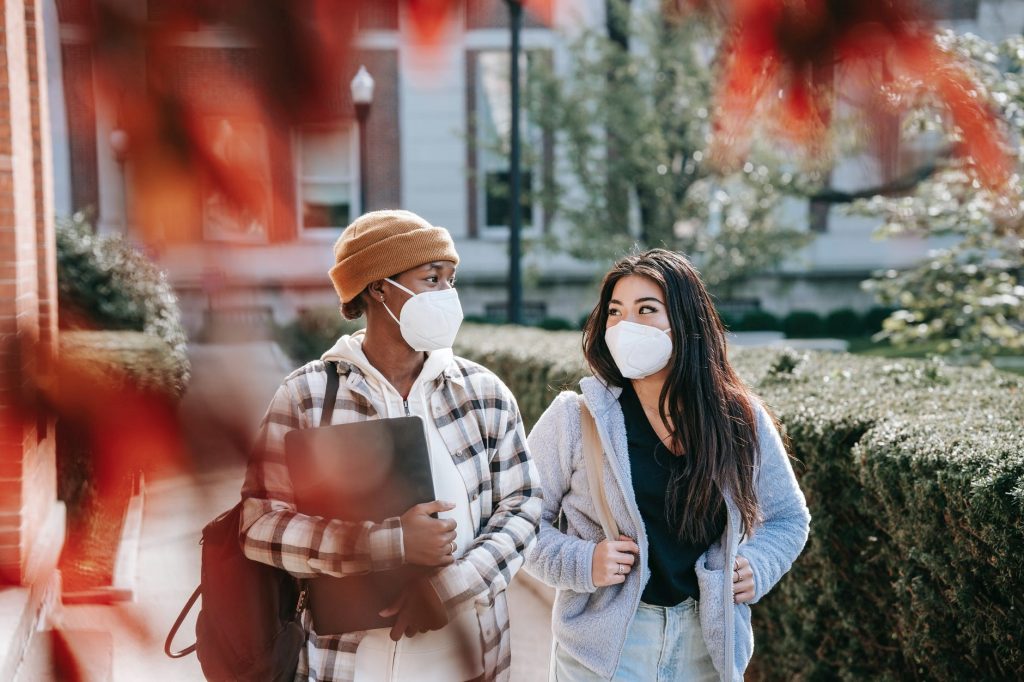 The picture shows two students are at the school premises, wearing a mask to avoid the spread of COVID-19 Photo: Unsplash.
Mandatory 14-day quarantine: Anyone entering Canada will be forced to a mandatory 14-day quarantine. Students have to make a quarantine plan in advance of arrival in Canada, mentioning where and how they will complete quarantine.
Covid-19 Ready DLI: First of all, all international students have to prove that they are entering Canada for non-discretionary purposes, providing their acceptance letter from one of the approved DLIs.
Accompanying family members: Also, family members, including spouses, dependent children, or their legal parent or guardian of the students may also be allowed to come to Canada, providing the proof that they are traveling for a non-optional, non-discretionary reason, such as helping the student get established in Canada (Source: CIC News).
ArriveCAN app: Everyone traveling to Canada by air must use the 'ArriveCAN app' to provide a quarantine plan and complete the COVID-19 self-assessment.
Read the full government guidelines for international students here.
For more stories of education, immigration, and success strategy, please visit our site: www.edufirst.ca